Looking to sell your house in the near future? Are you working on those home improvement projects that will help make your house look more charming in hopes it will attract the perfect buyer? While making your list of DIY projects, one that you should be paying attention to is your gutters. Prospective buyers will be turned off and ignore your house if your gutter system is faulty, outdated, or nonexistent. At Bartlett and Sons, our family-owned company is proud to offer quality gutters and amazing service. Don't let your gutter system cheat you out of a sale. Call Bartlett and Sons today and let the guttering professionals take care of your home.
Outdated Gutters
Prospective buyers are looking for the perfect house, and having to immediately replace a full gutter system would be a major headache and an expensive project. Gutters may seem like they don't matter, especially when it comes to cosmetic aspects of your home, but they can be a huge dealbreaker for home buyers. It seems funny, but your guttering system is one of the first thing potential home buyers notice when touring your home. Before putting your house on the market, have Bartlett and Sons come take a look at your home. We'll help you notice those details on your gutters you may have missed, and we can also help you repair or replace your system so that your house will be market-ready.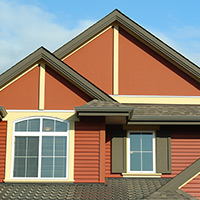 Faulty Gutters
Putting your home on the housing market can be nerve-wracking, but making sure that your home will pass the home inspection can be even more anxiety-inducing. Don't lose the sale of your home because the house inspection didn't pass. Let Bartlett and Sons investigate your gutters for any cracks, rust, holes, or buckling that may have occurred over time so they can be fixed before the home inspector. We'll be happy to repair or replace your gutters so your home will pass the inspection with flying colors and the buyer will be pleased. Call Bartlett and Sons today!
Nonexistent Gutters
If you step outside and maybe notice for the first time ever that your house doesn't even have gutters, don't fret. Call Bartlett and Sons instead! We offer many different guttering options for your home and can install them quickly and efficiently. We've created our own product to ensure that mounting gutters onto your house won't void the manufacturer's warranty on your shingles and roof. With Our WaveTech System, we won't have to puncture your roof to install new gutters. Don't turn off home buyers with your nonexistent guttering system. You can have new gutters installed by Bartlett and Sons using our WaveTech System and wow prospective buyers with an amazing guttering system that won't only save their new home from leaks and water damage, but also will have ensured their roof is still protected under manufacturer's warranty. Home buyers will be lining up outside of your door when you have your new guttering system installed by Bartlett and Sons.
Gutter Cleaning and Maintenance
It's always a good idea to have your gutters cleaned and inspected and it will be especially important before hosting an open house or having your home inspected. Bartlett and Sons can check your gutters for any faults, water damage, or holes, and also clean your gutters so they'll be spic and span for the house showings. Impress future home buyers with your well-maintained gutters. It may seem like they would pay more attention to your landscaping or the hardwood floors, but when it comes to your gutters, they'll be a major selling point and potential buyers will be thrilled with the maintenance. Bartlett and Sons is proud to offer incredible service and will make your gutters ready for prospective home buyers.
At Bartlett and Sons, we're proud of our service and want to help you get the best value for your home. While gutter systems aren't the most glamorous aspects of home-ownership, having well-maintained and updated gutters is extremely important and vital to selling your home and getting your preferred asking price. Don't miss out on selling your home due to a faulty or nonexistent guttering system. Call Bartlett and Sons in Wichita, Kansas and have your guttering system checked today!